Evaluation of the Puritox TC-M3000 Column for the Analysis of Multi Mycotoxins using LC/MS/MS


Julie L Brunkhorst, Bruce R Malone, Ronald Niemeijer, Heather Henderson


Trilogy Analytical Laboratory, Washington, MO 63090

Svenja Schloss, Federal Institute for Materials Research and Testing, (BAM), Berlin, Germany

Abstract
The LC/MS/MS has the advantage over traditional analytical techniques by allowing for multi mycotoxin analysis. This technology does have inherent limitations due to matrix effects resulting in signal suppression or enhancement of the target analytes. The removal of the sample matrix utilizing a purification step prior to the analysis is one method that would help reduce this effect and allow for accurate quantification using an external calibration. An evaluation was performed on several matrices for the analysis of mycotoxins using the Puritox TC-M3000 purification column by LC/MS/MS. This purification column is applicable for the most commonly found and regulated mycotoxins including aflatoxin B1, B2, G1 and G2, ochratoxin A, zearalenone, fumonisin B1, B2 and B3, and various Type A and B trichothecenes. This purification column has also been tested by the Federal Institute for Materials Research and Testing (BAM), Berlin, Germany for use in the extraction and analysis of Phomopsin A. This method uses a single 80/20 acetonitrile/water extraction solvent and a rapid one step purification process prior to LC/MS/MS analysis. The removal of the sample matrix using this purification column reduces the problem of signal suppression and enhancement often seen with LC/MS/MS analysis.
Procedure

A variety of commodities (corn, wheat, barley, wheat midds, corn soy blend, rice, corn gluten feed, corn gluten meal, soybeans, soybean meal, cattle feed, DDGS, sorghum and oats) were spiked with Aflatoxin B1, B2, G1 and G2, Deoxynivalenol, 3 & 15 Acetyl Deoxynivalenol, Fumonisin B1, B2 and B3, Ochratoxin A, T2, HT2 and Zearalenone. These spikes were extracted using 80/20 acetonitrile/water, purified using the Puritox TC-M3000 column, and analyzed by LC/MS/MS.
Samples for Phomopsin A were lupin flour, pea flour, bean flour and whole lupin plant (freeze dried and milled). They were also extracted with 80/20 acetonitrile/water and purified using the TC-M3000 column and analyzed by Qtof-MS.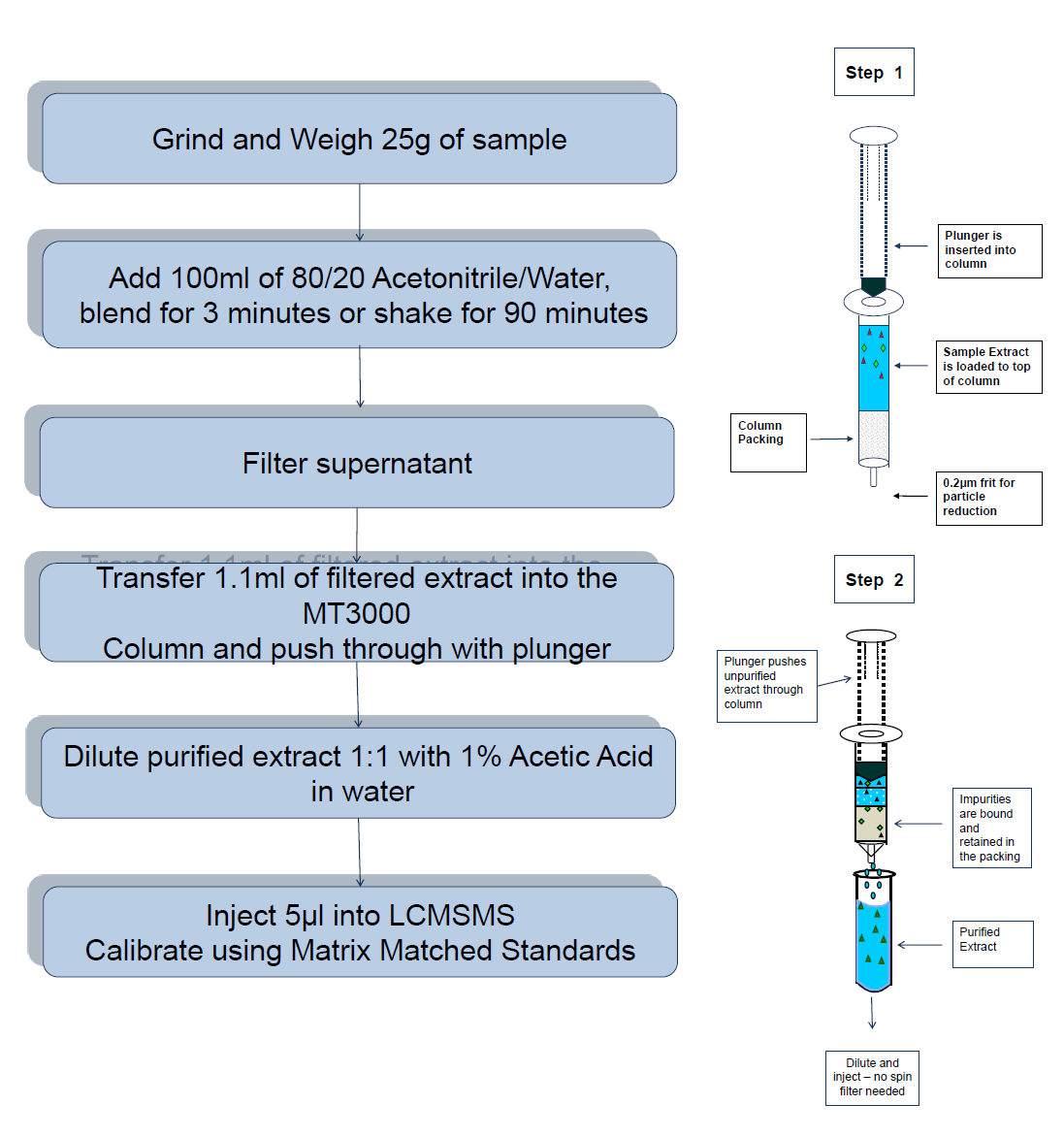 Data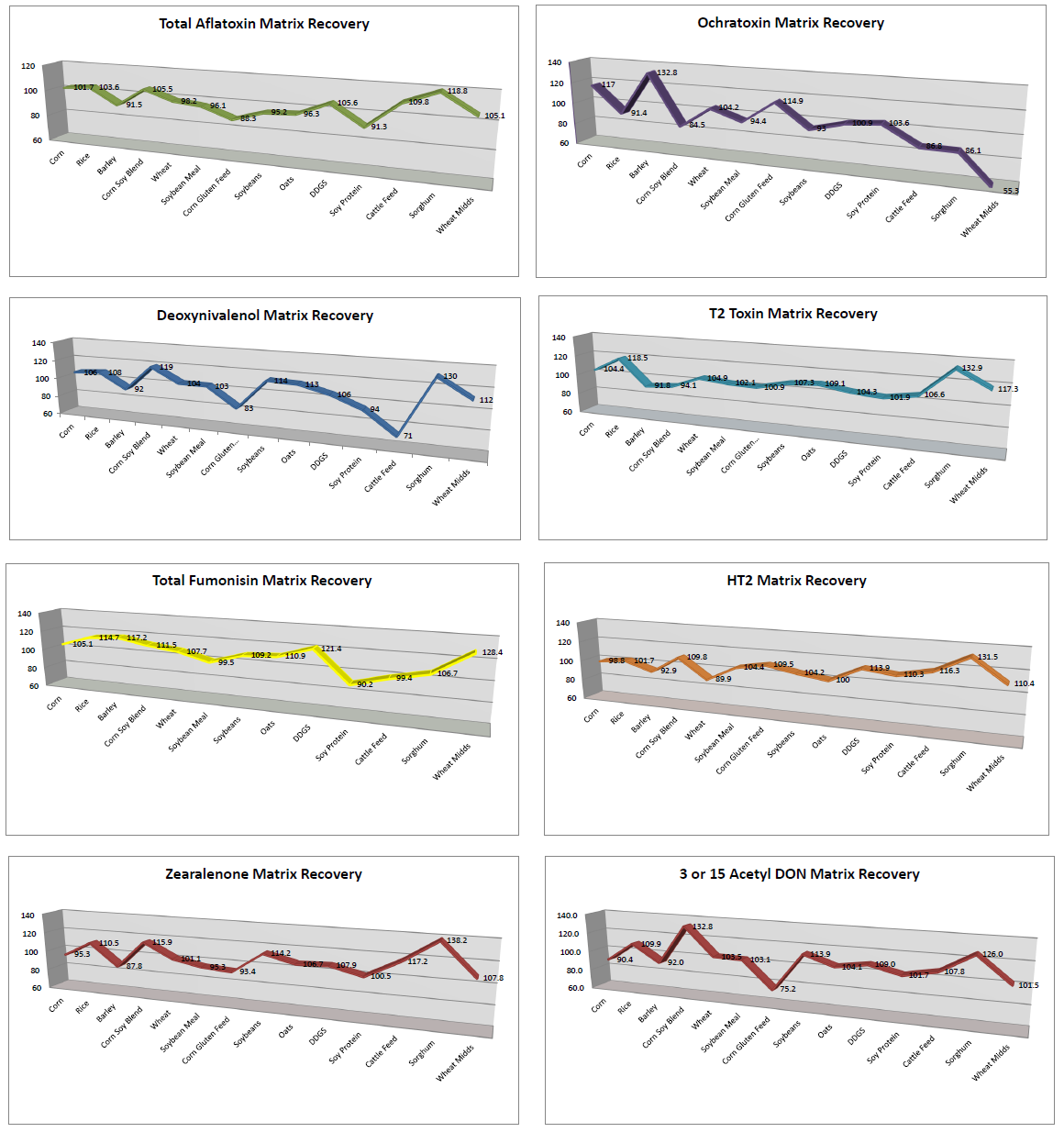 Phomopsin A

Without clean-up, the concentration of the sample was not possible and a low LOD/LOQ were not obtainable
Matrix recoveries >90%
LOD/LOQ were 0.5 - 1.0 μg/kg and 2.5 - 4.0 μg/kg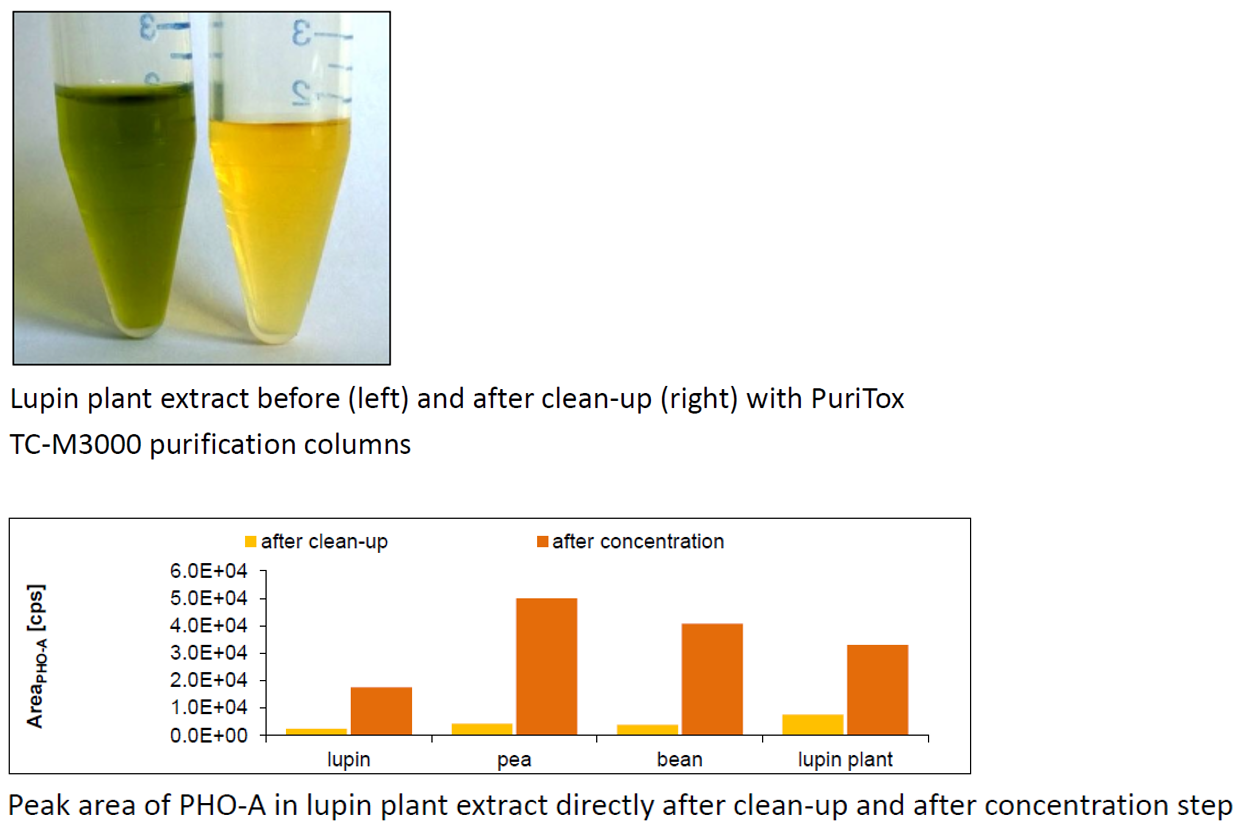 Conclusions

Rapid one step purification process
Multi mycotoxin analysis by LC/MS/MS (14 validated toxins)
Purification of Phomopsin A for the above listed commodities
0.2 μm frit incorporated into the column eliminates additional filtration
Partial purification of extract reduces ion suppression and enhancement
Extract purification reduces equipment maintenance
Matrix recoveries for 14 different commodities were greater than 70% for the major mycotoxins and also Phomopsin A
Cost effective method for analyzing multi mycotoxins and Phomopsin A