Evaluation of an Innovative Laboratory Shaker for the Extraction of Mycotoxins

Ryan J. Malone1, Julie L. Brunkhorst1, Jenny B. Buhr1, Heather L. Henderson1, Jordon S. Bierbaum1, Amy N. Pope1, Nicole K. McKernan1, Bruce R. Malone1, Kelley M. Renkemeyer1, Ben M. Lohmeyer2


1Trilogy Analytical Laboratory, Washington, MO, USA; 2R-Biopharm Inc, Washington, MO, USA
An innovative laboratory shaker has been developed, the Rock-It 360, that rapidly extracts samples for the analysis of mycotoxins prior to chromatography or ELISA methods. Plastic specimen cups or centrifuge tubes containing sample and extraction solvent are loaded into a tray located on top of the shaker. The shaker utilizes a high speed vortex motion that rapidly extracts the mycotoxins from the sample matrix. The extraction of aflatoxins, deoxynivalenol, zearalenone, ochratoxin A, T-2 toxin, and fumonisins using the Rock-It 360 shaker were compared with approved extraction procedures using blending or shaking. Various naturally contaminated mycotoxin reference materials were extracted by both methods and quantified using HPLC or ELISA methodology. The mycotoxin concentrations in the samples extracted using the Rock-It 360 laboratory shaker were equivalent to the official blending and shaking methods. The benefits of the bench top Rock-It 360 shaker include a rapid sample extraction, timer with auto-shutoff, inexpensive compact design, quiet and low vibration operation, shakes up to 12 samples at once, and eliminates hand shaking used for ELISA kit extractions.
• Rapid Extraction Time - 30 Second to 3 Minute Extractions for Multiple Toxins
• Timer with Automatic Shutoff
• Extract up to 12 Samples at Once
• Inexpensive Compact Design for Bench Top Use
• Eliminates Hand Shaking Used for ELISA Test Kit Methods
• New Low Impact Design Allows for Bench Top Use Without Excessive Vibration
• Capacity for Use with Disposable Specimen Cups and Centrifuge Tubes

Naturally contaminated reference materials for aflatoxin, deoxynivalenol, fumonisin, ochratoxin, T-2 toxin, and zearalenone were used to perform extraction time studies on the Rock-It 360 shaker. The efficiency of the extraction results obtained using the Rock-It 360 shaker were compared to results from a 2-3 minute blending procedure depending on the method of analysis.

Various extraction solvents used by chromatography and ELISA methods were used in the evaluation. These solvents contained various combinations of acetonitrile, methanol, and water.
Separate time studies were performed using plastic disposable specimen cups and centrifuge tubes with various sample weights and solvent volumes.
Each sample was extracted in triplicate by shaking on the Rock-It 360 for 30 seconds, 1, 2, 3, 4, and 5 minutes.
Samples were analyzed using the following chromatography and ELISA methods:
HPLC
• Aflatoxin - AOAC 994.08
• Deoxynivalenol - Journal of AOAC International Vol. 81, No. 4, 1998
• Fumonisin - AOAC 995.15
• Ochratoxin A - AOAC 2000.03
• Zearalenone - Journal of AOAC International Vol. 88, No. 6, 2005
GC
• T-2 Toxin - J. Agric. Food Chem. 1994, 42, 928-933
ELISA
• Aflatoxin - RIDA Quick Aflatoxin RQS
• Deoxynivalenol - RIDA Quick DON
• Fumonisin - Ridascreen Fast Fumonisin
• Ochratoxin A - Ridascreen Fast Ochratoxin A
• T-2 Toxin - Ridascreen Fast T-2 Toxin
• Zearalenone - Ridascreen Fast Zearalenone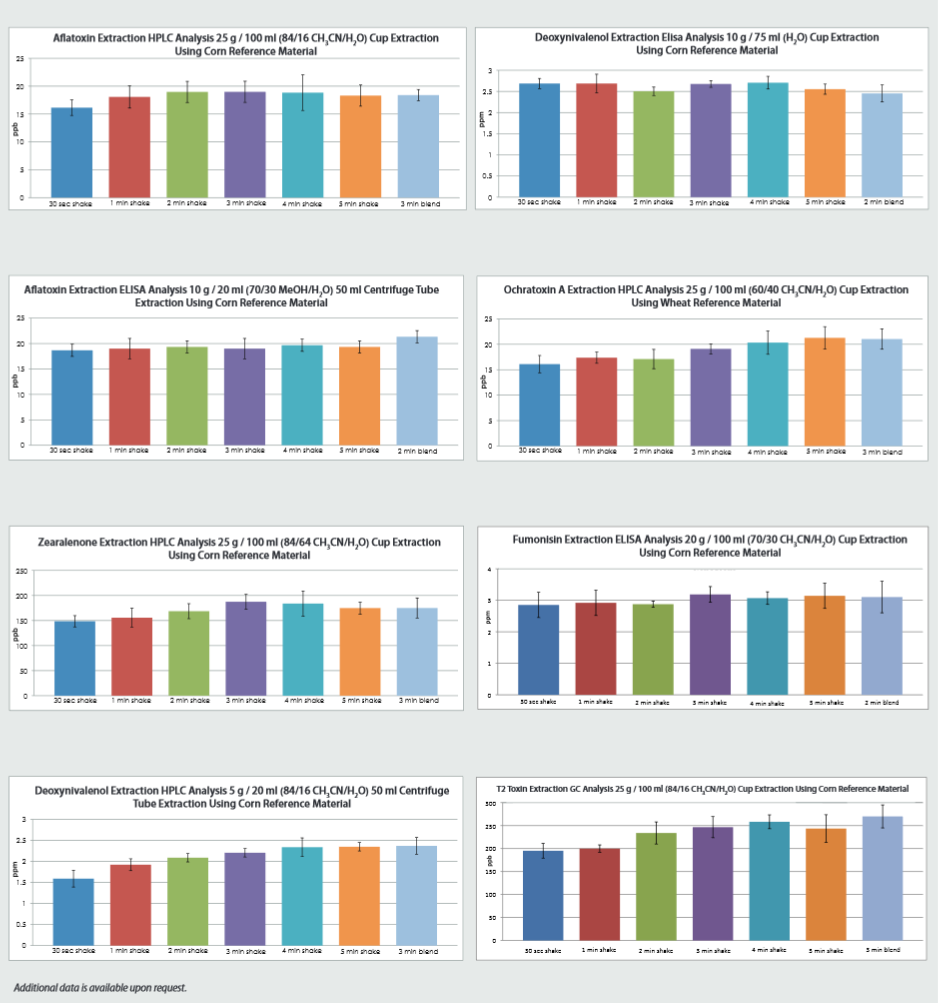 Aflatoxin
• HPLC - 1 minute Rock-it 360 shake is equivalent to 3 minute blend using ACN/water (84/16)
• ELISA - 1 minute Rock-It 360 shake is equivalent to a 2 minute blend using MEOH/water (70/30)

Zearalenone
• HPLC - 2 minute Rock-It 360 shake is equivalent to 3 minute blend using ACN/water (84/16)
• ELISA - 2 minute Rock-It 360 shake is equivalent to a 2 minute blend using MEOH/water (70/30)

Deoxynivalenol
• HPLC - 3 minute Rock-It 360 shake is equivalent to 3 minute blend using ACN/water (84/16)
• ELISA - 30 second Rock-It 360 shake is equivalent to a 2 minute blend using water

Ochratoxin
• HPLC - 3 minute Rock-It 360 shake is equivalent to 3 minute blend using ACN/water (60/40)
• ELISA - 1 minute Rock-It 360 shake is equivalent to a 2 minute blend using MEOH/water (70/30)

Fumonisin
• HPLC - 30 second Rock-It 360 shake is equivalent to 3 minute blend using ACN/water (50/50)
• ELISA - 30 second Rock-It 360 shake is equivalent to a 2 minute blend using MEOH/water (70/30)

T-2 Toxin
• GC - 3 minute Rock-It 360 shake is equivalent to 3 minute blend using ACN/water (84/16)
• ELISA - 3 minute Rock-It 360 shake is equivalent to a 2 minute blend using MEOH/water (70/30)